QUNO co-hosts event on prevention of conflict and human rights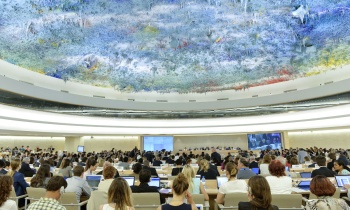 QUNO co-hosted a side event during the 32nd session of the Human Rights Council on prevention and early warning of conflict, and the role of economic, social and cultural rights. The event took place on Wednesday 29 June at the Palais des Nations.
Co-organised with the Office of the High Commissioner for Human Rights (OHCHR) and the Friedrich-Ebert-Stiftung (FES), the panel discussion featured speakers from OHCHR, American Friends Service Committee (AFSC) and Lancaster University. 
For further details, including details of all speakers, please see the flyer attached below.
Related Files
Related Areas of Work