QUNO and International Treaty host consultation on Farmers' Rights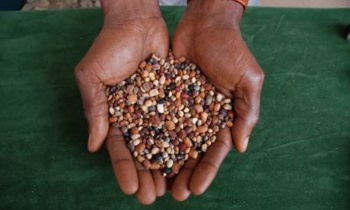 In conjunction with the secretariat of the International Treaty (ITPGRFA), QUNO hosted a small, focused consultation examining progress and challenges in domestic implementation of Article 9 - the section on Farmers' Rights.
Acknowledging the enormous contribution of farmers and local or indigenous communities to the development and maintenance of crop diversity, Article 9 recommends that countries take a number of measures to ensure this continues:
Protection of traditional knowledge
Equitable participation in sharing benefits of plant genetic resources' utilisation
Participation in decision making
Farmers' right to save, use, exchange and sell farm-saved seed (subject to national law and as appropriate).
The consultation, held on May 28th at Quaker House Geneva, brought together representatives from state delegations, research institutions and civil society for a half day of rich discussion and experience-sharing. An outcome document was prepared, to feed into the Global Consultation on Farmers' Rights being held in September in Bali, Indonesia.
Photo credit: IITA/Flickr
Related Links
Related Areas of Work