QUNO moderates for the FAO Event on Peace and Food Security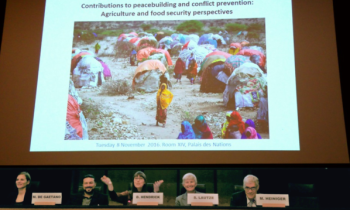 During Geneva Peace Week, QUNO representative Diane Hendrick moderated an event for the Food and Agriculture Organization (FAO) on "Contributions to peacebuilding and prevention:  Agriculture and food security perspectives". The event was an opportunity to for participants with peacebuilding and/or agricultural backgrounds to explore the linkages between agriculture and food security and sustainable peace, which largely remain as separate areas of work.
The panelists discussed the linkages between sustaining peace, food security and agriculture at both system level and on the ground bringing an example of FAO work in South Sudan. The discussion highlighted the importance of protecting and investing in rural livelihoods and sustainable food security before, during and after conflict as this can play an important role in peacebuilding processes.
Below are links to relevant FAO publications. The GreeNTD document illustrates the FAO's practical work in improving resilience of livelihoods and land disputes in DRC, and the Peace and Food Security paper provides a broader understanding of investing in agriculture for sustainable peace with interesting facts.
Related Files
Related Areas of Work