QUNO Attends 32nd IGC on Intellectual Property, Genetic Resources, Traditional Knowledge and Folklore at WIPO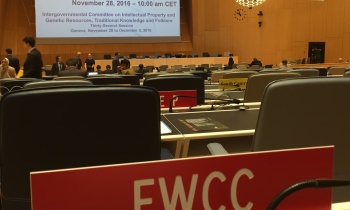 On November 28, 2016, QUNO attended the opening day of the 32nd session of the Intergovernmental Committee on Intellectual Property and Genetic Resources, Traditional Knowledge and Folklore at the World Intellectual Property Organization (WIPO) in Geneva. Some of the issues to be discussed during this week-long meeting will be around the development of an international legal framework to protect traditional knowledge, genetic resources and traditional cultural expressions. Member states will continue the negotiations around policy objectives, beneficiaries, scope of protection, rights holders, transparency, incorporation of customary law and complementary measures with the goal of narrowing the existing gaps on core issues.
Prior to today's session, we also attended the Seminar on Intellectual Property and Traditional Knowledge (November 24-25), during which indigenous peoples and people from local communities from all around the world discussed, among other issues, the importance of the distinction between 'sacred and secret and narrowly and widely diffused traditional knowledge'. The diverse set of speakers of the seminar included intellectual property attorneys, a member of the Maasai People of Kenya, and a member of the Kichwa/Kayambi Peoples of Ecuador, among others.
QUNO welcomed the opportunity to be part of both events and is looking forward to the outcomes of the sessions. QUNO supports the statements made by the Indigenous Caucus this morning to call on member states to continuously support the existence of the voluntary fund. This fund is essential in ensuring the participation of indigenous peoples and local communities in these negotiations, which in turn speaks for the legitimacy and credibility of the instrument to be developed. 
Related Links
Related Areas of Work