QUNO Co-Hosted Side Event at Committee on World Food Security in Rome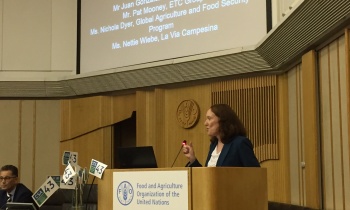 On October 20, 2016, QUNO and the Swiss Agency for Development and Coordination (SDC) co-hosted a panel discussion on Who Will and How Will We Feed Humanity at the Committee on World Food Security (CFS) 43 in Rome. The co-head of SDC's global food security program, Manuel Flury, opened the side event. It was the first time in the agency's history that the SDC co-hosted a side event at CFS with a Civil Society Organization (CSO). The panel speakers included Pat Mooney (ETC), Nichola Dyer (GAFSP), Juan Gonzalez-Valero (Syngenta), Netty Wiebe of La Via Campesina and Susan Bragdon as a moderator.
The panelists were asked to discuss two countries A and B based on previously sent out key characteristics. The two questions that guided the discussion were how their organizations would contribute to the food security situation in each country and what they believed the role of the public sector was in each of the country in terms of ensuring food and nutrition security. The event was very well received and several people commented on the diverse panel that provided for an excellent opportunity to bring together different actors to discuss their perspectives. 
Related Links
Related Areas of Work