Peace and Post-2015: What Now?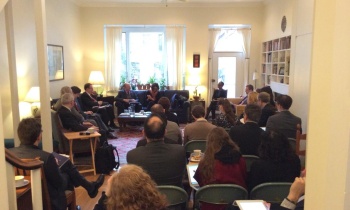 In August QUNO New York hosted an informal civil society strategy session at Quaker House to discuss the next steps for peace issues within the soon-to be adopted Sustainable Development Goals (SDGs). Primarily focusing on Goal 16 - Promoting Peaceful and Inclusive Societies - civil society representatives, as well as selected member state representatives and UN officials, discussed an array of next steps concerning the implementation, measurement, and communication of the agenda. 
The session additionally addressed the importance of forming partnerships across the wider peace community and explored possible linkages with other major processes at the UN, including the Peacebuilding Architecture review, the Peace Operations review, the World Humanitarian Summit, and the UN Plan of Action on Preventing Violent Extremism. 
Related Files
Related Areas of Work