QUNO co-hosts event on minority issues and criminal justice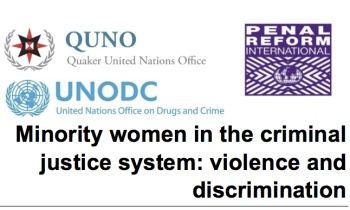 QUNO Geneva co-hosted an expert panel meeting alongside the 8th session of the Forum on Minority Issues, on Wednesday 25 November. 
Marking the International Day on the Elimination of Violence against Women, the panel addressed issues of discrimination and violence faced by women from minority groups in criminal justice systems. 
The event was organised in conjunction with the Permanent Mission of Canada, the UN Office on Drugs and Crime (UNODC) and Penal Reform International (PRI).
Further information about the event and speakers can be found on the flyer available below.
Related Files
Related Areas of Work