Peace and Post-2015: What's Next?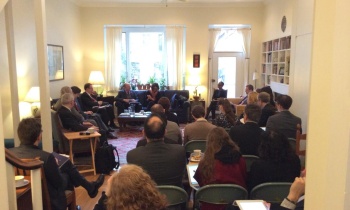 In January QUNO hosted an informal civil society strategy session on Goal 16 and the role of related peace issues in the new Sustainable Development Goals (SDGs). After many years of inputs, from a variety of different sources and streams, the process to replace the Millennium Development Goals with the transformative SDG framework enters its final stages. 
Civil Society representatives in New York and by phone from London and Washington were joined by selected member state representatives and UN officials. The session took stock of the conversation to date, reviewed the Secretary General's December 2014 synthesis report specifically from a peace perspective and considered potential points of entry for the coming year. 
Related Files
Related Areas of Work