A new Human Rights and Refugees Representative at QUNO Geneva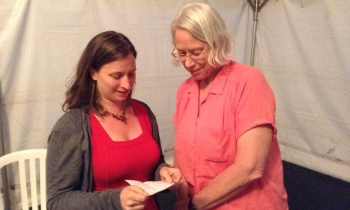 In February, Rachel Brett who has been Representative, Human Rights and Refugees (HRR) at QUNO Geneva since 1993 announced her plan to retire.  After an international selection process, Laurel Townhead has been appointed to this position from 18 August; we extend a warm welcome to Laurel. Laurel obtained her Master's degree in International Human Rights Law from the University of Essex in 2003. She has experience, among other issues, of work on women in prison, children of prisoners, conscientious objection to military service and support to asylum seekers. She was at QUNO Geneva as HRR Programme Assistant and Project Assistant in 2005-7 and comes to us now from her position as Policy & Campaigns Manager at the UK NGO Women in Prison that she has held since 2008. Laurel has been an attender of Peckham Quaker Meeting in London for several years.
Rachel will continue to work with us part-time as Adviser, HRR during a significant transition period. Her outstanding work has improved the lives of many, changed attitudes, built understanding and led to new international agreements. Rachel has worked on the needs of child soldiers, women prisoners, conscientious objectors to military service, stateless people, and children of parents sentenced to death.
Related Areas of Work