QUNO participated in Open Working Group 8 on the Sustainable Development Goals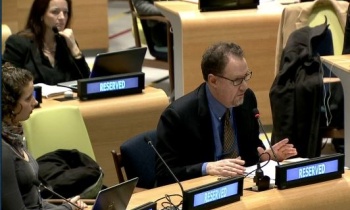 Quaker House welcomed many guests during the Eighth Session of the Open Working Group on Sustainable Development Goals. QUNO and our colleagues focused on the topic of conflict prevention, post-conflict peacebuilding and the promotion of durable peace, rule of law and governance within the proposed framework for development post-2015 by engaging with side events and making statements.
We were glad to host colleagues from the Alliance for Peacebuilding and from The Africa Civil Society Platform on Principled Partnership, pictured here.
Andrew Tomlinson, QUNO-NY Director, made a statement to the co-chairs of the OWG, which can be read here (under the title "Peace: getting to the heart of sustainable development") , and also viewed online (starting at 39:40mins). 
Related Areas of Work