Blog: 5 Things to know about U.S. budget cuts to the United Nations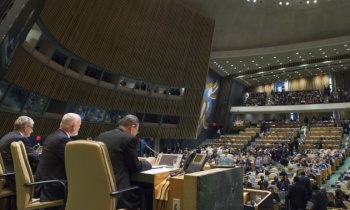 Below are excerpts from a blog, "5 Things to know about U.S. budget cuts to the United Nations," written by QUNO's UN Representative for Peacebuilding and featured on the American Friends Service Committee's blog.
This month, heads of state and government from throughout the world will descend on the United Nations for the opening of the 72nd session of the U.N. General Assembly. This year's theme is "Focusing on People: Striving for Peace and a Decent Life for All on a Sustainable Planet." And it's certainly critical now given the range of global challenges we face, including an unprecedented level of humanitarian need, rising inequality and exclusion, growing climate change impacts, and increasing threats to our shared security. 
[…]
Despite the impact of the U.N., and the vital contributions made by the United States, there are growing concerns that the U.S. will reduce support and funding of the U.N. Amid broader proposals for deep cuts in U.S. support for human needs and other non-military spending domestically and internationally, a range of proposals have advanced from Congress and the White House to severely cut the U.N. budget. 
[…]
So, what are the key things to be aware of when it comes to the United States and its relationship with and support of the U.N.? And how can you show your support for the United Nations? 
Read the full blog here.
Related Areas of Work