Lunch Event: What's Next in Peacebuilding and Prevention? New Insights from Global Peacebuilding Leaders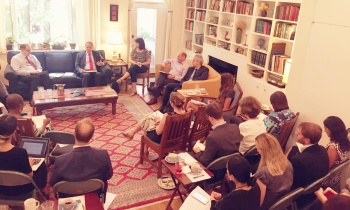 On 19 and 20 June, QUNO was joined by representatives from peacebuilding organizations from around the world for an annual retreat on 'What's Next in Peacebuilding?'. As part of this two-day meeting, QUNO hosted a lunch event on 29 June on the same subject, inviting colleagues from the UN and Member States, as well as members of civil society organizations for the discussion. 
This event comes at a time when the UN has seen a new focus on conflict prevention and peacebuilding, largely due to the commitments to foster peaceful, just and inclusive societies in the 2030 Agenda, the dual Sustaining Peace Resolutions, and the Secretary-General's commitment to make conflict prevention a key priority. 
Furthermore, around the world, local and international peacebuilding practitioners are working with communities affected by violence, injustice and exclusion, in countries at all stages of development. The lived experience of these communities, their successes and challenges, provide critical inputs to decision makers at a national and regional level, as well as multilaterally and at the UN.
During this event, participants heard from a panel of speakers representing QUNO, Saferworld, Accord, Partners Global, Alliance for Peacebuilding, the Geneva Peacebuilding Platform, and Global Partnership for the Prevention of Armed Conflict (GPPAC) about lessons learned arising from the experiences of their own organizations and partners relating to peacebuilding. Speakers and participants heard about and discussed a range of issues, relating particularly to innovative financing strategies for peacebuilding, the important role narratives play in peace/conflict contexts, and closing the gap between policy and practice in the peacebuilding and conflict prevention field.
Related Areas of Work