5 years of progress on the children of incarcerated parents: launch of a new resource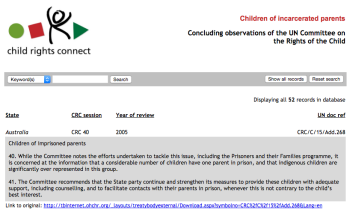 To mark five years since the Committee on the Rights of the Child held a Day of General Discussion (DGD) on Children of Incarcerated Parents, Child Rights Connect's Working Group on this issue is launching a new database of relevant recommendations from the UN Committee on the Rights of the Child. As convenor of Child Rights Connect's Working Group, QUNO has complied this database to highlight what has been achieved since the DGD, and to encourage further progress in protecting the rights of these children around the world.
The 2011 DGD was an important moment in raising the issue of children incarcerated parents within the UN human rights system. Since then, the issue has been reflected in a Human Rights Council resolutions, advanced in national policy and practice and been the subject of important research projects, with advocacy efforts coordinated by newly developed regional networks.
This resource is the latest development in efforts to raise the profile of this often overlooked group. It enables Committee Members, States and civil society to browse the Concluding Observations made by the Committee to States regarding their treatment of children of incarcerated parents. The Concluding Observations can be searched by State, year, Committee session, UN document reference or keywords. 
We hope that the resource will encourage further recognition of this issue in international policy, leading to better protection of these children's rights.
The database can be found at www.crccip.com
We also marked the five-year anniversary of the DGD by delivering an oral statement to the 33rd Session of the Human Rights Council on children of incarcerated parents. Please see here for details of the statement.
Related Links
Related Areas of Work