QUNO attends Public Consultation on Biodiversity and Human Rights at the 33rd Session of the Human Rights Council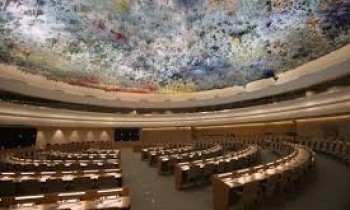 On September 22, 2016, QUNO attended a public consultation on biodiversity and human rights obligations at the Palais des Nations in Geneva. Special Rapporteur on human rights and the environment, John Knox, presented his approach for his report to be introduced at the upcoming Human Rights Council session in March 2017. The release of the report, which will focus on human rights obligations as they relate to the protection of biological diversity and ecosystems, will be closely followed by QUNO.
While attending the public consultation, QUNO intervened to emphasize the importance of agricultural biological diversity and small-scale farmers in this discussion. QUNO stated its opinion that the unique characteristics of agricultural biological diversity could usefully be elaborated upon in the upcoming report. 
Related Links
Related Areas of Work