QUNO delivers oral statement on human rights and climate change at HRC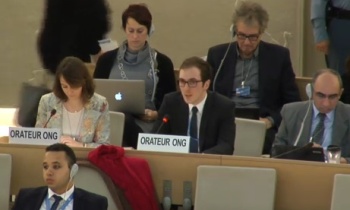 In response to the report of the Special Rapporteur on Human Rights and the Environment, QUNO delivered an oral statement stressing the importance of incorporating a human rights perspective into states' climate action.
Focusing on the role of human rights in producing coherent, legitimate and sustainable policies, as well as the importance of ensuring citizens' participation in climate policy, the statement was delivered by Patrick Endall, Programme Assistant for Food & Sustainability and Climate Change, during the 31st session of the UN Human Rights Council in Geneva. 
A video recording of the session is available online - QUNO's statement can be viewed by scrolling to Chapter 51 on the right of the video player.
The text of the statement can be viewed following the link below.
Related Files
Related Areas of Work