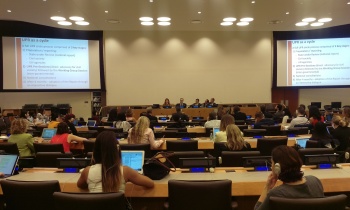 On 26 June, QUNO, in collaboration with the Permanent Missions of Germany and Switzerland, who co-chair the cross-regional Human Rights/Conflict Prevention Caucuses in New York and Geneva, and the Office of the High Commissioner for Human Rights (OHCHR), co-hosted a discussion on "Integrating Human Rights and Sustaining Peace – The Role of the Universal Periodic Review (UPR)". As the 2016 sustaining peace resolutions adopted by the Security Council and General Assembly, and the Secretary-General's 2018 Report on the same subject, call upon Member States and the UN to consider the human rights dimension of peacebuilding, this event provided a timely opportunity for civil society, UN agencies, and Member States to discuss how the UPR can contribute to better integrating human rights and sustaining peace. 
Hosted at UN Headquarters, this high-level meeting began with a presentation by Florence Foster of QUNO-Geneva on a recent study entitled "Integrating Human Rights and Sustaining Peace" exploring how the UPR is an inclusive, universal and the least contentious Human Rights Council process, and how its recommendations can be developed and implemented to prevent human rights violations that if left unaddressed could lead to conflict. The report recommends greater attention to be paid to conflict analysis throughout the UPR process, a shift in mindset away from the fragmented perception of human rights as a prerogative of Geneva versus peacebuilding and security as a prerogative of New York, and the levelling of dialogue spaces for human rights conversations addressing sustaining peace matters. 
The presentation was followed by an interactive panel discussion including Assistant Secretary-General (ASG) Andrew Gilmour, Head of the OHCHR Office in New York, ASG Oscar Fernandez-Taranco, Head of the Peacebuilding Support Office, and Katy Thompson, Governance & Peace Building, Conflict Prevention Team Leader at the UN Development Programme, as well as the Permanent Representative of Guatemala to the United Nations, Ambassador Jorge Skinner-Klee. 
QUNO looks forward to its continued collaboration with all actors on better integrating human rights and sustaining peace, in particular with both Human Rights/Conflict Prevention Caucuses. 
Related Areas of Work