A moment for remembrance and rededication to peace on the Korean Peninsula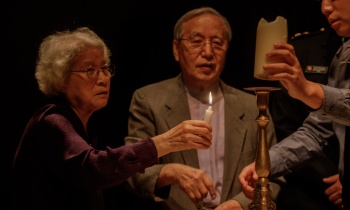 70 years ago, on July 27, 1953, the guns of the Korean War fell silent following the signing of an armistice. While the armistice brought an end to 3 years of fighting, it did not end the war. The parties to this conflict never reached a peace settlement. Today, the Korean Peninsula and many families remain separated between north and south. Tensions remain high with the constant threat that friction could escalate into a nuclear conflict.
On the 70th anniversary of the Korean War armistice, QUNO New York joined with ecumenical partners to co-host a remembrance ceremony for members of the UN community. Following an opening welcome by Presbyterian and Mennonite colleagues, an official from the UN's Department of Political and Peacebuilding Affairs shared a statement on behalf of the UN Secretary-General. This was followed by a brief period of grounding Quaker worship before a Buddhist prayer offered in English and Korean. Guests had the opportunity to hear a beautiful performance of the traditional Korean folk song, Arirang, a UNESCO recognized ballad that remains popular in both North and South Korea.
In addition to UN officials, civil society colleagues, and members of the Korean community in New York City, many diplomats attended the ceremony. Representatives of countries that sent troops to fight in the conflict were present, as well as those that sent medical units, and neutral nations that continue to provide a communication link between north and south. The remembrance included a candle-lighting ceremony where representatives of divided families, troop sending nations, and a youth representative lit candles in honor of lives lost, families still separated, hope for a peaceful future, and our rededication to peace efforts.
QUNO will continue our work with ecumenical partners at the UN and with the American Friends Service Committee (AFSC), which sustains its long-term programing on the Korean Peninsula. Through this engagement, we seek to shine a light on the urgent need for engagement and dialogue that will pave the way for a durable peace after 70 long years.
Photo Credit: Paula Tinong
Photo Caption: A candle is lit to honor families divided by the Korean War.
Related Areas of Work