QUNO NY hosts 'Youth Impact' discussion on sidelines of Permanent Forum on Indigenous Issues and Youth Forum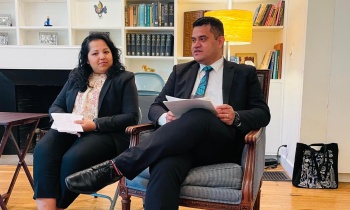 On April 26, QUNO NY hosted a hybrid side event for the ECOSOC Youth Forum and Permanent Forum on Indigenous Issues. The event titled, 'Youth Impact: Building Connections to Elevate Action,' provided a space for youth to come together at Quaker House to share experiences from within their communities as well as challenges they face when engaging with the UN during these forums. Opening remarks were given by Gerard Tuii Anapu, Fellow, President of the General Assembly Fellowship Programme 2023.
Mr. Anapu reminded young people that sometimes "we forget that we need to be the catalyst for change in an already depressing world of "established practices."" To do this he recommended that young people must be resilient, active, and vocal to their government, and visit their UN missions when at UN Headquarters. He called upon young people to ensure they are listened too and not just heard, to "continue to rise above and work together knowing that governments are decision makers, but we are decision shapers". He also highlighted the recent International Court of Justice advisory opinion on the legal obligation of governments to future generations, which was first brought forward by young people in Vanuatu.
These opening remarks provided space for a frank and open discussion with participants in the room and online. During the conversation participants also spoke about the need for young people to have safe spaces outside of the UN during these forums to process, reflect and heal during what can be a traumatizing and heavy experience with a lack of cultural safety. The importance of spaces for networking and building connections and community between young people attending these forums was highlighted.
Related Areas of Work