'Joyous' William Knox was a Quaker who spoke his mind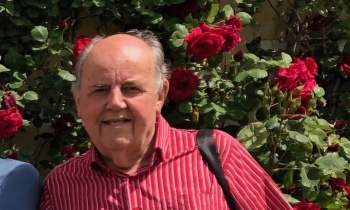 Quaker United Nations Office (QUNO) staff in Geneva sends condolences to the family of William Knox, who served for two years on their governance committee until his recent passing.
Knox passed away in early October at his adopted home in Penang, Malaysia.
Robert Gibson, a fellow QUNO Geneva governance committee member, plans to attend a memorial service for Knox in Oxford in England next week.
In a letter to the Knox family, QUNO Geneva staff wrote that "even from the Zoom meetings he brought with him his deep humanity, expertise and humour". 
"Once we could meet again in-person, our meetings were brightened by his kindness and his appreciation for our QUNO work. He often spoke of his family in the United Kingdom, his life journey, of his home in Malaysia and his draw to Quakerism.
"He made us smile, and was grateful for even the most simple things, such as a mattress on our office floor to rest his jet-lagged state."
A governance committee member who worked alongside Knox remembered him as "such a joyous person".
"It is hard to imagine that energy gone from the world today. I will miss his enthusiasm at our meetings."
Another committee member wrote: "William was only on the QUNO Geneva committee for a couple of years, but brought with him long experience of Quaker witness in the world. 
"Having served for the British Quaker Peace and Service, working in Sri Lanka, he had been involved in practical peacemaking that QUNO and others do, and his years living in Malaysia brought with it an understanding of Quakerism in Asia. 
"He was always curious, happy to speak his mind and inspired by the work that QUNO does."
The Singapore Quaker Meeting, of which Knox was an integral part, said in its condolence message that Knox was a "greatly valued and much-loved member of our Meeting".
"He met regularly with us by Zoom and also traveled to Singapore for Meeting. Members of our Meeting also traveled to Penang to visit with William.
"William was our Representative and the Representative for Asia West Pacific as a whole to QUNO Geneva.
"William's passing will be felt by many in this region and he, his warmth, wisdom and humour will be greatly missed."
Related Areas of Work