QUNO's presence at the June Climate Meetings in Bonn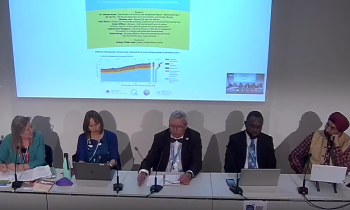 The first in-person climate negotiations this year – and the precursor to COP27 in Egypt - took place in Bonn from 6th June to 16th June. QUNO's Human Impacts of Climate Change programme was present as part of the RINGO constituency, joining the two-week meeting of Member States and representatives of civil society, Indigenous Peoples, business, and youth from around the world. The Bonn meetings follow the finalization of the Paris Agreement's "rulebook" in Glasgow and presented an opportunity to assess the state of progress on climate mitigation and adaptation, taking stock of where climate action is on track and where there are gaps in implementation, with targets not being met and greenhouse gas emissions continuing to rise.
QUNO was present throughout the two weeks, attending meetings and engaging with diplomats, UN and civil society. We were grateful to co-host a side-event in the second week, alongside two other Quaker organisations – Quakers in Britain and Quaker Earthcare Witness - on "Accountability and responsibility for rapid reduction of oil and gas: empowering people and governments". The Glasgow Climate Pact was the first COP decision to explicitly reference action against fossil fuels; specifically, the phasedown of coal and phase-out of fossil fuel subsidies, but not oil and gas. The question of sectoral targets was a key area for debate throughout the two weeks in Bonn and was picked up by our panelists.
The panel included representatives from the scientific and legal communities, alongside State and UN representatives. Dr Johanna Nalau, began by giving an overview of the IPCC's Working Group 2 findings on climate adaptation. She was followed by Dr Ian Fry, Special Rapporteur for Climate Change of the Human Rights Council, who touched on sectoral accountability in the context of carbon markets, climate litigation and investment in the fossil fuel industry. Nikki Reisch of the Centre for International Environmental Law then gave an overview of efforts to hold the fossil fuel industry responsible for climate emissions and trends for accountability and corporate responsibility. Finally, Sanlan Williams of Vanatu and Harjeet Singh of the Global Partnership to the Fossil Fuel Non-Proliferation Treaty and Climate Action Network International spoke about their respective experiences of legal efforts to ensure climate accountability.
The event was framed by a question from Lindsey Fielder Cook, QUNO's Representative for Human Impacts of Climate Change, of "what do we want to sustain?". As we look forward to COP27 in Sharm El Sheikh, we will continue to look for opportunities to discuss the phase out of fossil fuels at the international level.
A recording of the event is available here.
Related Areas of Work