QUNO Geneva Human Rights and Refugee Programme at the 49th Session of the Human Rights Council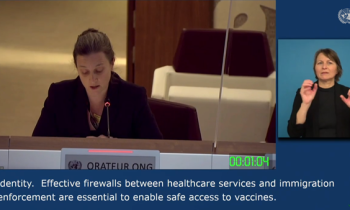 The Human Rights and Refugees Programme at QUNO Geneva engaged with the 49th Human Rights Council through oral statements on the human rights of migrants. For the Panel discussion on ensuring equitable, affordable, timely, and universal access for all countries to vaccines in response to the COVID-19 pandemic, Laurel Townhead Representative of the program, delivered a statement on access to vaccines for migrants and the impact of vaccine inequality on border governance. QUNO called for all States to work together towards appropriate responses to border governance that are: epidemiologically warranted, cognizant of the impacts of vaccine inequality, and in line with international obligations, including international refugee law and international human rights law. 
Under General Debate Item 2: Strengthening Human Rights Protection at and Across Borders, QUNO drew attention to human rights violations at borders and in transit and to what the High Commissioner for Human Rights has so powerfully described as lethal disregard for people on the move. In line with the Secretary General's Report on the implementation of the Global Compact for Migration, we make a call to all States to take concrete steps through the upcoming International Migration Review Forum (IMRF) to support sustained attention, provide expert analysis, and foster dialogue to end lethal disregard. We believe it is time for a mechanism such as a High-Level Panel on Preventing Deaths in Transit. See the video of the statement here.
Under General Debate Item 9 of the agenda — concerning racism, racial discrimination, xenophobia, and related forms of intolerance, QUNO's Geneva Director Nozizwe Madlala-Routledge delivered a video statement. In this statement, Nozizwe highlighted how racism is deeply manifested in migration practice and policy creating situations of vulnerability and leading to human rights violations for migrants. Our briefing paper mentioned during the statement: Dismantling systemic racism in migration governance aims to explain the link between racism and migration policy, provide examples of how racism manifests in migration governance, and provide policy recommendations for States at the national level. The upcoming IMRF in May provides an opportunity to bring a racial justice lens to multilateral discussions on migration; including incentivizing action on racial justice in national implementation of the Global Compact for Migration. We urge States to pledge to review and revise migration policies by undertaking a racial justice and intersectional analysis, through a participatory and inclusive approach.
Related Files
Related Areas of Work