The 1st session of the Permanent Forum on People of African Descent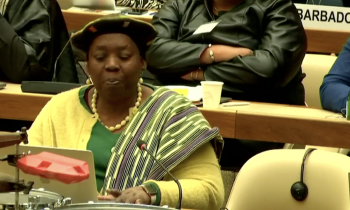 In August 2021, the General Assembly adopted its resolution 75/314, in which it formally operationalized the Permanent Forum as a consultative mechanism for people of African descent and other relevant stakeholders, as well as an advisory body to the Human Rights Council.  Additionally, the Permanent Forum has been tasked with contributing to the elaboration of a UN declaration on the promotion, protection, and full respect of the human rights of people of African descent.
The first session of the Permanent Forum on People of African Descent (PFPAD) took place from 5 to 8 December 2022 at the Palais des Nations, in Geneva. It brought together around 500 people, including human rights activists and leaders of African descent, State representatives, United Nations organs and bodies, civil society, and other relevant stakeholders. Discussions focused on the fight against systemic racism, climate justice, reparatory justice, and equality for all people of African descent.
We welcomed the opportunity to participate in the inaugural session of the Permanent Forum on People of African Descent and to represent the concerns of Quakers worldwide, the majority of whom are in Africa. QUNO Geneva's Director, Nozizwe Madlala-Routledge, made a statement emphasising that "racism is an insidious form of structural violence permeating all of society." In support of the call of the International Coalition of People of African Descent for a clear understanding of reparations as vital towards the overcoming of structural racial injustice - be it legal, cultural, political, or economic, Nozizwe referenced the framework of retrospective justice advocated by the BlackQuaker Project to support steps towards reparatory justice. 
Nozizwe went on to welcome conversations about the role racism plays in migration governance, stating: "if we are serious about racial justice, then migration justice is an essential part of our work, and migrants' expertise and experience should be centred in our discussions." Racism, racial discrimination, xenophobia, and related intolerances are rooted in ethnonationalism, which deeply permeates migration narratives, laws, policies, and practices around the globe, leading to further exclusion, stigmatization, and criminalization of migrants of African descent and other racialized groups. 
We believe that racism must be understood as a systemic issue and seen through the lens of intersectionality. We stand ready to support the Permanent Forum of People on African Descent in its task and to hold member states accountable for the commitments they have made to end racism. 
Related Links
Related Files
Related Areas of Work