Geneva Peace Week 2022 (part 1/3) - QUNO Geneva believes 'Peace is Possible' at the Opening Ceremony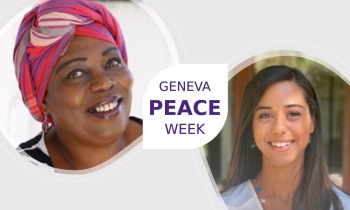 The Geneva Peace Week 2022 took place from 31st October to 4th November 2022. It is a leading annual forum in the international peacebuilding calendar where Geneva-based organizations and their international partners come together to share knowledge and practices on a diverse range of topics relating to the promotion of peace across contexts and disciplines. This year's overarching theme was 'Peace is Possible'.
Monday 31st October offered a full day Opening Ceremony with panels setting the stage for the rest of the week and to kick off ideas from a diverse range of speakers – including many QUNO Geneva staff.
All the directors of the founding organizations of the Geneva Peacebuilding Platform came together to address how 'Peace is possible' from policy leaders' perspective. QUNO Geneva's Director - Nozizwe Madlala-Routledge drew on her expertise as a woman in leadership positions and her own long-standing experience on anti-racism. Nozizwe highlighted how women play a tremendous role in promoting peace and peaceful dialogue by referring to the women's leadership and mobilisation movement in South Africa, as they integrated gender issues and women's demands into the national liberation agenda to end legalised racism.
Nozizwe went on to say: 'A nation is not free until women are free' as 'there could not be peace without the full emancipation of women.'
Later that day, during the first edition of the Geneva Peace Week Youth Panel, Yasmin Beldjelti, QUNO Geneva's Human Rights and Refugees Programme Assistant, spoke about her journey as an advocate for human rights and social justice in the field of migration. Yasmin explained how institutionalized and systemic racism fosters exclusionary and dehumanizing practices in migration policies, eroding social cohesion locally and globally.
As Yasmin stated: 'Peace is more than the absence of overt violence or destructive conflict, but rather sustainable peace is fundamentally linked with human rights, social and economic justice, and political participation for all and not just for the few.'
This week has allowed us to reflect on the essence of the UN Charter, where there was the understanding that peace and human rights are inextricably linked and take us back to that fundamental notion that protecting human rights can in fact make peace possible. In his intervention at the Geneva Peace Week Opening Day, the newly appointed High Commissioner for Human Rights, Volker Türk, mentioned the importance of the second preamble of the UN Charter. Volker Türk brought home the notion that both the UN Charter and the Universal Declaration of Human Rights were crafted in the name of peace -calling on Member states to redouble their effort and recommit these foundational documents.
Related Links
Related Areas of Work