Transformation for Racial Justice: Nothing can be changed until it is faced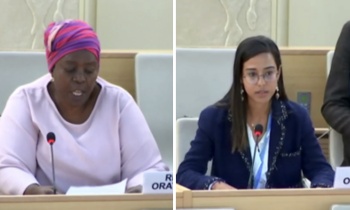 On 3 October, QUNO Geneva engaged with the work of the Human Rights Council on systemic racism.
Speaking in the first dialogue with the Expert Mechanism on Law Enforcement and Racism, Director Nozizwe Madlala-Routledge drew on her own experience of police violence in apartheid South Africa. Welcoming the work of the Expert Mechanism and the High Commissioner for Human Rights, Nozizwe went on to say:
"Eradicating structural racism requires sustained collective effort … We are aware of the scale of your task, and we stand with you and others seeking transformation of systemic racism."
Earlier in the day, during the dialogue with the Working Group of Experts on People of African Descent, Yasmin Beldjelti, Human Rights and Refugees Program Assistant, delivered a statement thanking the working group for its attention to the links between systemic racism and human rights violations in the context of migration. Yasmin quoted the Progress Declaration of the International Migration Review Forum's commitment to "eliminat[e] all forms of discrimination, including systemic racism… by reviewing, developing and implementing relevant legislation, policies and practices…".
In response to QUNO's question on how to hold States to this commitment, Working Group Chair Catherine Namakula highlighted the value of strategic litigation and developing racial justice indicators.
In addition to continuing work on the links between racial justice and migration justice, QUNO Geneva will further explore how best to support the renewed efforts of the UN to address concerns related to systemic racism.
Related Links
Related Files
Related Areas of Work