A transformation at Quaker House New York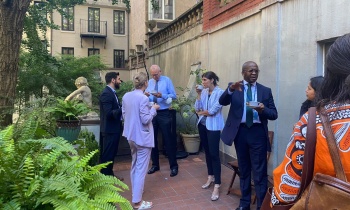 In New York, autumn has brought cooler temperatures and fall color, and the pace of activity has moved into high gear following the opening of the 77th UN General Assembly. There is new energy in the UN halls and meeting rooms, as diplomats leave online meetings behind and come back together in person. For QUNO NY staff, we are excited to reconnect with old colleagues while also building relationships with diplomats and UN staff who have arrived in New York more recently. It has been particularly special to (re) introduce colleagues to Quaker House.
New York City was hard-hit by the COVID-19 pandemic. As a result, the UN went entirely online and was cautious as it resumed in-person meetings. At QUNO, we also embraced online options and Quaker House remained quiet for many months. As New York City began to open up again, and the UN resumed in-person meetings, QUNO staff put in many hours of work to transforming the Quaker House terrace into a space where members of the UN community can have the option to gather outside in the peace and tranquility of the neighborhood gardens. This has allowed us to continue using Quaker House as a setting where we bring a diversity of concerns, views, and perspectives before UN decision makers while also practicing good safety protocols.
As the UN community continues to grapple with complexities and challenges that the COVID-19 pandemic poses, we are grateful that we can offer Quaker House as a space where UN officials and diplomats receive information they might not otherwise be able to access, and can work together to forge new and creative solutions.
Related Areas of Work