QUNO NY Staff Comings & Goings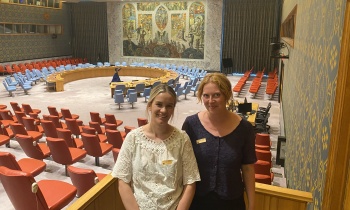 The support and contributions of Programme Assistants (PAs) are critical to QUNO NY's United Nations efforts. Our colleagues come to QUNO for this 13-month position from throughout the world to contribute to the work and witness of Quakers at the UN. Every year our office then has the tradition of welcoming our incoming PAs and bidding farewell to those who have finished their time with us.
This September we were delighted to have Sadhbh O'Driscoll and Sigrid Corry join as Programme Assistants. Sadhbh, who graduated from University College Cork, Ireland in 2020 with a Bachelors degree in Criminology, is actually returning to QUNO in a way. In 2015, she visited the QUNO NY office during a youth pilgrimage with Irish Young Friends and decided she wanted to return to work as a PA. In 2018, she travelled to Athens, Greece with Irish Young Friends where they worked with refugees and cleared out homes devasted by recent wildfires. A member of the Irish Girl Guides (IGG) for over ten years, she visited Pune, India in 2019 and participated in service projects there with IGG. Sigrid joins our team after completing her Masters degree in Migration and Diaspora Studies from the School or Oriental and African Studies (SOAS), University of London. Before coming to QUNO, Sigrid researched Danish and UK border and asylum issues at anti-racist thinktank, Institute of Race Relations, and legal charity Bail for Immigration Detainees. She also worked as coordinator in a grassroots community project with people facing deportation in Copenhagen before the pandemic. Both Sadhbh and Sigrid are excited to embark on their new journey at the UN and support QUNO's activities in the coming year, including on issues like youth inclusion and peacebuilding in crisis situations.
This bittersweet transition means that QUNO staff also said farewell to our outgoing PAs, Cecile Adrian and Tim Koch. Cecile joined QUNO after receiving her Bachelors in Peace Studies and doing mutual aid organizing in Baltimore. In the PA position, Cecile had the opportunity to learn about the UN system and its processes and see QUNO's unique approach in action. Some of the highlights of her year were tracking meetings on Palestine, helping to scope and develop QUNO's new line of work on the UN's Youth and Peace Agenda and facilitating a listening exercise with young people in the US. Cecile is currently completing a pottery apprenticeship in France as she continues on her path of vocational discernment. Tim Koch, who joined in December 2021, worked on and gained firsthand knowledge about complex UN processes and thematic areas such as the humanitarian, development, and peace nexus, and the impacts of climate change on peace.  He was happy and excited to continue to broaden his understanding of these issues and meet new colleagues from throughout the world leading programming to address these challenges. Tim is currently exploring other research and monitoring and evaluation centered opportunities within the UN and civil society organizations. In the meantime, Tim plans to backpack across East and Southern Africa, two regions which he is very passionate about. 
If you are interested in learning more about our Programme Assistant positions, please visit here. Applications for 2023-2024 will open by the end of 2022.
Related Areas of Work