Quaker United Nations Office New York names new Director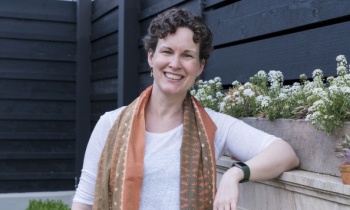 The American Friends Service Committee (AFSC) and the Quaker United Nations Committee - New York are pleased to announce that Sarah Clarke will be assuming the role of Quaker United Nations Office (QUNO) New York Director on November 1. In this post, Sarah Clarke will lead QUNO's work with UN agencies, multilateral organizations, state diplomats, and civil society representatives to bring Quaker insights and practice to the work of the UN system and promote transformative means of addressing conflict and building peace.
Sarah brings over 20 years of experience working on peacebuilding and conflict transformation in international settings. She previously served as a Quaker Representative at QUNO from 2002 – 2014. Over recent years, her work has focused on peacebuilding efforts in Myanmar. As a consultant, she provided analysis, training, and facilitation support to the UN Country Team, the British Embassy in Yangon, the U.S. Institute of Peace Burma Program, and to a range of Myanmar civil society organizations.
"It is a great honor to be appointed director of QUNO New York," said Sarah Clarke. "Quaker engagement at the UN is more important than ever as we face planet-wide challenges that need global solutions. QUNO brings the unique Quaker approaches of listening to and engaging all, providing space, and seeing beyond borders. We stand at a juncture in time when these simple gifts are needed more than ever to support the UN to fully live into its mission, and I am excited to take on this important responsibility."
Sarah's appointment comes after an extensive international search process involving members of the Quaker UN Committee, the Friends World Committee for Consultation, QUNO, and AFSC staff. Search Committee members recognized Sarah's extensive experience working at the UN and her strong passion for strengthening engagement between communities on the ground and international policy makers.
Sarah holds a master's degree from the London School of Economics and has spent most of her adult life living in the U.S. and Southeast Asia. While she will take up her position in New York, Sarah lives with her family in Philadelphia. Originally from Canada, Sarah is a member of Ottawa Monthly Meeting. She is actively engaged in support for Quaker education initiatives and currently serves on the Board of Greene Street Friends School.
Related Areas of Work