Vacancy announcement: QUNO New York is hiring a Quaker UN Representative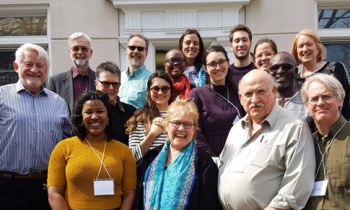 QUNO's New York office is hiring for the position of Quaker UN Representative to join our representation team at the United Nations. This Representative position functions as a senior member of the QUNO team, sharing programme responsibilities while taking particular care for the operations of the office. Their principal responsibilities include: taking a lead role under the supervision of the QUNO Director in facilitating the administration and financial management of the QUNO office and Quaker House (including supervising the Office Coordinator); developing and implementing one or more areas of QUNO programme as articulated in the QUNO strategic plan; and supporting the Outreach and Development Officer in respect of fundraising and outreach activities. It is anticipated that their time will be evenly divided between programmatic and administrative responsibilities. 
Qualified applications will have a minimum of eight years of experience in non-profit administration and programme implementation, including financial management, grant management and staff supervision. Additionally, applicants need demonstrated programme experience in a related field of QUNO New York's work. Interested applicants are encouraged to read through the job description and requirements, and apply here by April 10, 2021.
Related Areas of Work