Vacancy announcement: QUNO New York is hiring an Outreach & Development Officer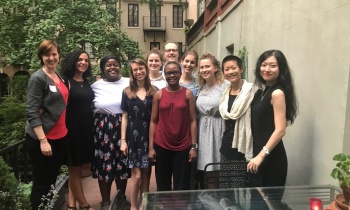 QUNO's New York office is hiring for the position of Outreach & Development Officer. This position will work closely with the QUNO Director, and will coordinate with the AFSC Advancement team, QUNO senior staff and the Quaker UN Committee (QUNC) in all facets of fundraising, outreach and communications for QUNO. This position will focus on building the base of interested and engaged supporters for QUNO. For fundraising, this includes expanding and strengthening the current donor base to significantly increase contributed revenue. This position will also create and implement an effective outreach and communications strategy to raise the visibility of QUNO in anticipation of a public celebration of its 75th Anniversary in 2023 and to maximize QUNO'S public presence in the years beyond.
Qualified applicants will have a minimum of seven years of experience in front-line fundraising, as well as a minimum of three years of experience in outreach and communications. Additionally, applicants will have the ability to navigate complex organizational relationships with grace, to work within a small office and coordinate with a larger remote advancement team. Interested applicants are encouraged to read through the job description and requirements, and apply here.
Related Areas of Work