QUNO participates in the Youth Forum on Migration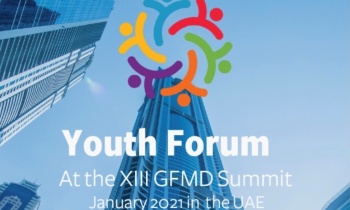 QUNO has been working on the human rights of migrants at the international level to promote the protection of human rights of all regardless of migration status. One of QUNO's priorities is connecting with others to both learn from and work collaboratively with to ensure the effectiveness of our work.   
Earlier this week, Human Rights and Refugees Programme Assistant Najmah Ali had the opportunity of participating in the Youth Forum on Migration as part of the XIII Global Forum on Migration and Development (GFMD) Summit. This forum brought together 75 young people from all over the world who are working on or are interested in migration and provided a space to discuss and outline opportunities and visions for migration policy and practice. This forum underlined the importance of youth and migrant perspectives in migration dialogues particularly at the global level.
Najmah participated in the thematic Addressing Gaps in Migrant Protection and the European Regional narratives roundtables. The thematic roundtable on migration stressed the importance of human rights based approaches to addressing gaps in migrant protection and highlighted some key initiatives that can be raised at the GFMD. The European roundtable focussed on identifying opportunities for shifting narratives on migration and enabled participants to build partnerships to take this work forward in the near future. We are excited to see the impact of the youth forum on the GFMD Summit. 
Related Areas of Work