Joint NGO submission to the UN Working Group on Business and Human Rights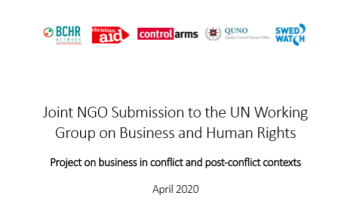 In April 2020 the Business, Conflict and Human Rights Network (BCHR Network), Christian Aid Ireland, Control Arms, QUNO and Swedwatch jointly submitted to the UN Working Group on Business and Human Rights' project on business in conflict and post-conflict contexts. This project aims at identifying and clarifying policies and practices that States and business enterprises should take to prevent and address business-related human rights abuses in conflict and post-conflict settings.
The substance of this submission is rooted in our respective work and the conversations had during the 2019 Business and Human Rights Forum in Geneva. As a group of NGOs active at the intersections of arms control, peacebuilding, climate change and business and human rights, we identified several core issues that we found pivotal to business in contexts affected by conflict, including:
The importance of home State policy coherence and consistency
Access to information
Transitional justice
Challenges of finance and collusion
The role of the arms industry
The submission also includes an annex of case studies on the conduct of palm oil company SOCFIN and land grabs in Sierra Leone, jade mining and Myanmar's military, natural resource management and mediation centres in the Democratic Republic of Congo, and a good practice example of how the arms industry could use its anti-corruption due diligence approaches to develop procedures to control human rights risks posed by the supply of military products and services to third parties.
We look forward to continuing our engagement with the Working Group and hearing their recommendations from this project, which will be presented in a report to the UN General Assembly in October 2020.
Related Links
Related Files
Related Areas of Work