QUNO Geneva speaks at the Human Rights Council on Child Rights and Criminal Justice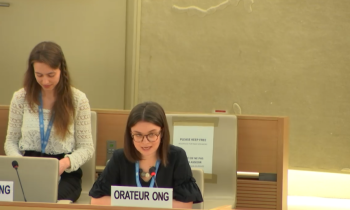 QUNO Geneva delivered a statement on the importance of ensuring that the rights of children are respected in criminal justice systems during the 43rd session of the Human Rights Council.
The statement provided an opportunity to draw attention to the recent publication of QUNO's updated briefing paper, 'Children of Incarcerated Parents: International Standards and Guidelines', which provides up-to-date information drawn from legal instruments, treaty bodies, and other relevant UN and regional guidance on the rights of these often overlooked children.
QUNO's statement, delivered by Human Rights and Refugees Programme Assistant Lucy Halton, also drew the Council's attention to the upcoming UN Congress on Crime Prevention and Criminal Justice, in Kyoto this April, and the excellent opportunity it provides to concretely contribute to mainstreaming child rights in criminal justice systems.
The full version of the statement is available to read below.
Related Files
Related Areas of Work