QUNO co-hosts the third annual civil society briefing with Under-Secretary-General Menéndez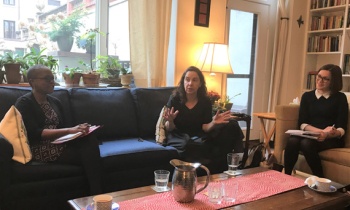 On 4 February, the Civil Society-UN Prevention Platform (the Platform) held its third annual informal, off the record briefing with Under-Secretary-General (USG) and Senior Policy Advisor, Ms. Ana María Menéndez. Ms. Menéndez has played a central role in Secretary-General António Guterres's focus on prevention since starting the position in June 2017. 
Convening actors across pillars and sectors of the broader UN system and finding channels to bring in outside voices is central to achieving QUNO's vision. Facilitating strategic discussions between civil society organizations and the UN through co-facilitation of the Platform is one way QUNO works towards this vision. Building on the past annual meetings, this year's gathering with USG Menéndez provided an opportunity for open and constructive dialogue on how civil society can contribute to the Secretary-General's prevention agenda in an evolving UN system. 
USG Menéndez briefed civil society on the Executive Office of the Secretary-General's current approach towards prevention and provided reflections on her office's work over the past year. She shared insights from her recent trips to visit UN country teams in Asia, Africa, and the Americas, focusing especially on the interactions of UN country and regional teams with civil society. The discussion at Quaker House also provided an opportunity for reflection on the first year of implementation of the UN-wide reforms, which have significantly restructured many aspects of the peace and security, development, and management systems to promote the Secretary-General's vision for sustainable peace and prevention.  
The Civil Society-UN Prevention Platform, established in 2016, continues to support the commitments made by the Secretary-General to a renewed prevention focus within the UN. We are pleased with Ms. Menéndez's office's commitment to meaningful engagement with civil society including through this meeting and during her field visits. The Platform continues to stand ready to assist in whatever way possible to nurture and grow the partnership with her office and will continue to collaborate with the UN and civil society to support inclusive prevention efforts.
 
Related Links
Related Areas of Work