Development and Security Rely on Peace, Justice and Inclusion: Statement by Peacebuilding Organizations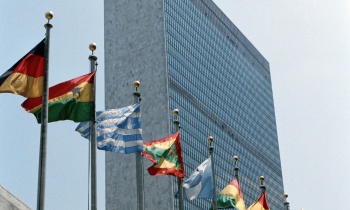 September 21 marks the International Day of Peace, which was established in 1981 by a unanimous resolution in the UN's General Assembly. To mark the day, QUNO and over 80 additional peacebuilding organizations from throughout the world issued a statement to United Nations Member States that brings attention to peace concerns.
As noted by QUNO NY's Director, Andrew Tomlinson, "in many cases, governments are pursuing security using militarized approaches, either in the absence of, or in isolation from, policies that decrease exclusion and inequality – core drivers of conflict. If we are to have a hope of eliminating extreme poverty, fostering peaceful and prosperous societies, and addressing the root causes of conflict, then governments need to urgently re-align their priorities."
The statement calls on governments and the international community to:
Fully embrace the commitments to peace in the 2030 Agenda
Reaffirm a commitment to human rights, the foundation for human dignity and just societies
Foster social resilience by strengthening inclusion and addressing inequality
Think local and act global: recommit to multilateralism as a safeguard for the most vulnerable
Protect and support civil society in fostering sustainable peace
Additionally, QUNO distributed a press release on the statement, which was shared widely with media contacts covering the United Nations.
Related Files
Related Areas of Work