Strengthening a comprehensive and inclusive approach to countering incitement and preventing violent extremism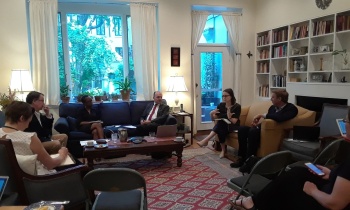 On 25 June 2018, the Civil Society-UN Prevention Platform was pleased to convene a meeting on "Strengthening a Comprehensive and Inclusive Approach to Countering Incitement and Preventing Violent Extremism". Held at the onset of a week at the UN focused on counter-terrorism approaches of Member States and the Review of the Global Counter-Terrorism Strategy, this meeting provided a timely opportunity for UN agencies and civil society organizations to come together to understand the context, and set expectations for the week's upcoming events.
Held at Quaker House, this event brought various actors together to discuss how to work productively and collaboratively on this issue. The objectives of this meeting were to discuss key actors in countering incitement and preventing violent extremism, to explore ways to better engage local civil society communities; and to consider the lessons learned at local levels and within the UN system. Participants agreed that as the international community attempts to adapt to violent extremism, a more holistic, people-centered approach should be prioritized.
The Platform was pleased to host this discussion and looks forward to continuing to convene meetings between civil society, UN actors and Member States to support the UN on its prevention agenda.
Related Areas of Work