QUNO at the COP 24 in Katowice, Poland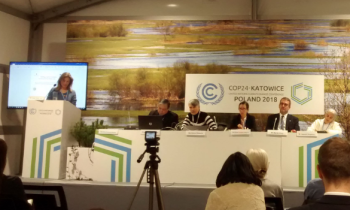 QUNO was present for the entire COP 24, in Katowice Poland.  The following article helps outline briefly the COP24 outcome.  During our time, QUNO observed the negotiations and spoke regularly with negotiators to encourage the adoption of an effective, fair and ambitious Rulebook to the Paris Agreement.  While progress was slow and rights-based language nearly absent, the work remains ongoing and QUNO will continue to engage with decision makers next year.  
In addition to the quiet diplomacy work, QUNO staff helped lead a workshop at an Interfaith Talanoa Dialogue, co-hosted and moderated a side event, Building a Spirit of Solidarity to overcome climate crisis, to an audience of some 200 people, supported the operationalization of the Local Communities and Indigenous Peoples' Platform, funded and helped to facilitate a Human Rights and Climate Change Working Group Dinner, and organized an Interfaith Trip to Auschwitz Concentration Camp.
Related Links
Related Files
Related Areas of Work