The adoption of the Global Compact for Safe, Orderly and Regular Migration: A QUNO guide for Friends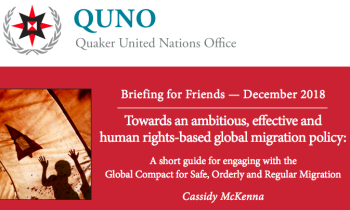 On 10th December 2018, after a two year negotiation process, States formally adopted the Global Compact for Safe, Orderly and Regular Migration at an intergovernmental conference in Marrakech. On 19th December, the Compact was then endorsed with a vote at the General Assembly in New York. 
As an international agreement determined to enhance cooperation on migration policy, the Global Compact provides an unprecedented opportunity to acknowledge that all countries are places of origin, transit and destination, and that States have a shared responsibility in their approach to people on the move. Despite the small number of votes against and "withdrawals" at the General Assembly, and the domination within the surrounding conversation of a racist and xenophobic rhetoric, the Compact is nevertheless an achievement of multilateralism, and deserves to be celebrated.
The reasons it endured some diplomatic difficulty in the run up to its adoption are the same reasons that it remains such a necessary and vital agreement – because the human rights of migrants need to be acknowledge, advocated for and protected, irregardless of the political climate, and existing legal standards that govern international migration must be upheld and respected.
This briefing provides a short guide to the Compact, offering an explanation of the final text, a timeline of how it was developed, some suggestions of how Friends can use the document to support their witness and their activism, and a description of what QUNO's next steps will be. 
Related Files
Related Areas of Work