QUNO brings attention to peacebuilding issues at UN meetings on the Sahel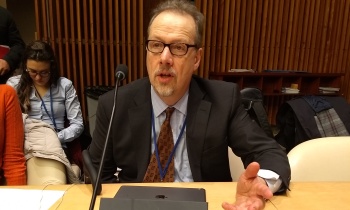 During meetings held on November 13-14, Member States and UN actors came together to discuss strategies for peacebuilding and sustaining peace in the Sahel region. This began with the annual session of the Peacebuilding Commission (PBC), a full day, interactive meeting that focused on themes of partnerships, and the role of women and youth in peacebuilding in the Sahel. The annual session was then followed the next day with a joint half-day meeting of the Peacebuilding Commission and Economic and Social Council (ECOSOC) as it held a discussion centered on the topic of the linkages between climate change and challenges for peacebuilding and sustaining peace in the region.
QUNO joined a small number of organizations who spoke at the PBC's annual session, with New York Director, Andrew Tomlinson, representing the organization. Joining Member States and UN colleagues as they reflected on the UN Support Plan for the Sahel, Mr. Tomlinson reminded participants of the centrality of inclusion in the development and implementation of strategies for peace. He noted that "the emphasis…on the need to have a single, shared theory of change for external accompaniment for the people of the Sahel is vital, but while moving to consensus and coherence from the top down is important, we also cannot forget the need to build our analysis from the bottom up, to involve affected communities, including women and youth, in our understanding of the drivers and dynamics of the situation."
As the only civil society organization to participate in the joint PBC-ECOSOC meeting, QUNO brought forward reflections on the impact of peacebuilding for discussions on and strategies to address climate change. Mr. Tomlinson shared that, "this morning we have heard a lot about resilience – ways of supporting communities to be more robust in the face of stress. (…) And what a peacebuilding lens provides here to the climate change discussion is the insight that resilience is also enhanced by accompanying communities and societies in supporting their ability to process and transform climate-related disagreements, disputes and grievances. In this way, part of the support needed is to identify what capacities exist within these communities for dispute resolution and mediation, including the important role of women, and then to provide training and resources to grow those endogenous resources."
QUNO looks forward to continuing its engagement with these bodies to support sustainable peacebuilding policy development and implementation that addresses key drivers of conflict and fragility and includes a diversity of voices – particularly affected communities.
To watch QUNO's intervention at the PBC, please view this link, beginning at 1:32:34.
To watch QUNO's intervention at the joint PBC/ECOSOC meeting, please view this link, beginning at 2:34:40.
Related Files
Related Areas of Work