QUNO attends 46th Session of the Intergovernmental Panel on Climate Change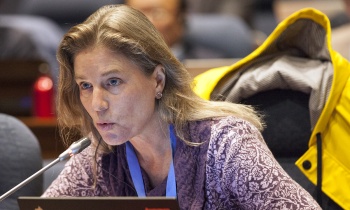 Under the Friends World Committee for Consultation, QUNO is now an accredited observer of the Intergovernmental Panel on Climate Change (IPCC). This official observer status enables us to nominate authors and engage in the development of IPCC Reports, which provide decision makers worldwide with the most extensive collection of climate science research.
QUNO prioritizes inclusion of research on climate justice and sustainable behavior/economic systems in addressing the root causes of anthropogenic climate change. During the 46th Session of the IPCC, held in Montreal Canada from 6-10 September, QUNO encouraged research on the role of lifestyle/behavior/consumption change, sustainable economies in reducing greenhouse gas emissions from human activities.
Related Links
Related Areas of Work