The New York Declaration: One year later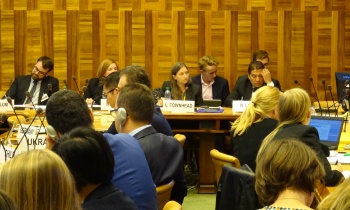 On 19 and 20 September 2016, UN Member States made important commitments for refugees and migrants through signing the New York Declaration.  Exactly one year on, QUNO's Laurel Townhead (Human Rights and Refugees Representative) joined other NGO representatives in an open briefing to member states to assess the achievements of the Declaration and the processes underway to deliver on the commitments made. Organised by ICVA, the event focused on how the two global compacts that the Declaration called for can be drafted to produce effective agreements.  
An effective global compact would recognize the existing human rights standards and contain actionable commitments based on these standards and follow up mechanisms that further their implementation. QUNO also delivered a statement with a similar message at the Human Rights Council on Monday 18 September (see below).
Related Links
Related Files
Related Areas of Work