QUNO Food & Sustainability Programme Attended the ECE Regional Forum on Sustainable Development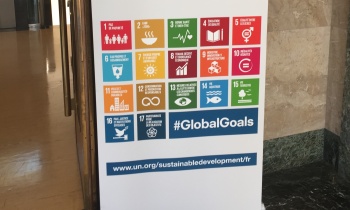 On April 25, 2017, Food & Sustainability Programme Assistant Nora Meier attended the UNECE Regional Forum on Sustainable Development (RFSD). One day prior to that event, she also followed the preparatory civil society consultation at the Palais des Nations in Geneva, where she was able to connect with organizations from the region.
The RFSD followed up on and reviewed the implementation of the 2030 Agenda and its Sustainable Development Goals (SDGs) in the UNECE region while focusing on practical value-added and peer learning. During the one-day event, states, civil society and the private sector shared policy solutions, best practices and challenges from their experiences in SDG implementation and helped identifying major regional and subregional trends. The meeting also convened three roundtables on national and local adaptation of SDGs; subregional cooperation for SDG implementation; and on data and monitoring.
In light of the High Level Political Forum (HLPF) to be taking place in July in New York, QUNO was interested to learn about the progresses made and processes implemented, in particular as they relate to SDGs 1, 2, 3, 13, 15, and 16.  
Related Links
Related Areas of Work