QUNO attends 32nd session of the Human Rights Council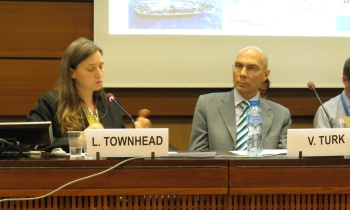 From 13 June to 1 July, QUNO representatives attended the 32nd session of the UN Human Rights Council taking place in Geneva.
During the session, QUNO followed the negotiation of resolutions on a number of thematic issues, including the right to a nationality, the human rights of migrants and human rights and climate change.
Programme Assistant Daniel Cullen delivered two oral statements at the session: the first on the Nelson Mandela Rules (see this link at chapter 76 for video) in the Interactive Dialogue with the Special Rapporteur on Health, and the second on the rights of children of incarcerated parents (see this link at chapter 36 for video) in the Item 3 General Debate.
On 29 June, Representative Laurel Townhead spoke on a panel at a side event on the human rights of refugees and migrants, which QUNO co-organised with the Office of the High Commissioner for Human Rights (OHCHR), the International Detention Coalition (IDC) and others.
On the same day, Zaina Kisongoa, Country Representative for Somalia with American Friends Service Committee (AFSC) spoke on a panel a separate side event on the role of economic, social and cultural rights in the prevention of conflict, co-organised by QUNO, OHCHR and Friedrich Ebert Stiftung (FES).
QUNO also co-sponsored a third side event, organised by Penal Reform International (PRI) along with the Permanent Missions of Canada and Denmark, on the human rights of women in conflict with the law, which took place on 15 June.
Related Areas of Work