QUNO supports civil society action on peace issues in the 2030 Agenda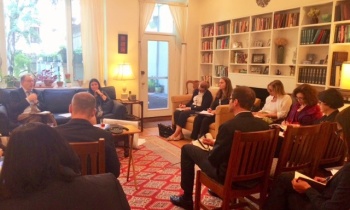 Implementation of the 2030 Agenda for Sustainable Development, adopted by Member States in September 2015, is well on its way. To encourage coordinated and effective action, QUNO and the International Peace Institute brought together a broad array of civil society representatives at Quaker House to take stock of current initiatives, identify gaps and consider possibilities for collaboration, both on Goal 16 (on peace, justice and inclusive institutions) and on the peaceful societies issues within the SDGs more broadly. 
The meeting was remarkable for the interest shown by a wide range of organizations, working on issues ranging from disarmament to corruption, from peacebuilding to justice, governance and human rights, and included those working on issues of women and youth and political inclusion. 
QUNO was pleased to support key peace actors in coming together together as a community of like-minded groups working towards a common goal, at a time when the implementation of Goal 16 and related goals and targets are being cited as a core part of moving forward on peacebuilding and prevention.
Below is a summary document of the meeting. 
Related Files
Related Areas of Work