QUNO hosts ECOWAS Ambassador to the UN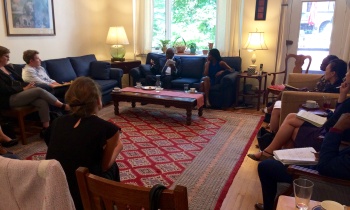 QUNO facilitated a conversation at Quaker House in New York for Ambassador Leon Tanou Kone, the Permanent Observer of the Economic Community of West African States (ECOWAS) with member states and UN staff. Ambassador Kone gave a useful update on the security, climate change and migration issues in West Africa. In light of recent discussions on the need for greater collaboration between the UN and regional organisations, this meeting was an opportunity for the UN community to act upon this recommendation through an informal, in-depth dialogue with the ECOWAS Ambassador. 
This meeting was the second in a series of meetings taking place at Quaker House that bring UN actors and African regional and sub-regional organisations together to discuss issues of shared concern, including around the prevention of violent conflict. 
Related Areas of Work