QUNO attends European conference on children of prisoners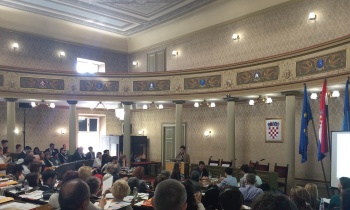 From 20-22 May, QUNO attended the annual meeting of Children of Prisoners Europe (COPE), the European network of organizations working for the rights of children of incarcerated parents, held in Zagreb, Croatia.
The meeting allowed the sharing of experiences from across Europe, and discussion of new developments, policy concerns and good practice in this area.
A public conference on Friday 20 May, hosted in conjunction with the office of the Croatian Ombudsman for Children, brought together speakers from a range of institutions, including the Committee on the Rights of the Child, the European Commission and the European Parliament, as well as many organizations working directly with prisoners and their families.  
QUNO's Daniel Cullen (Programme Assistant, Human Rights and Refugees) exhibited a conference poster at the event, which outlined the international standards relating to the children of incarcerated parents, highlighting how the Human Rights Council and Committee on the Rights of the Child have sought to address the issue in the past. 
During the COPE general assembly on Saturday 21 May, QUNO's application for full membership was formally accepted. For further information about the work of the network and its members, please visit the COPE website here. 
Related Areas of Work