QUNO highlights conflict sensitivity in business during Geneva Peace Week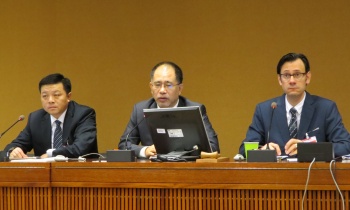 QUNO and AFSC, with the support of the Peace Nexus Foundation, organised an event at the Palais des Nations on "Conflict Sensitivity in Business: Experiences from China and Southeast Asia" as part of Geneva Peace Week 2015. The event provided a platform for a senior Chinese business representative, as well as Cambodian and international NGO representatives, to speak about their efforts to work together to mitigate conflict around investments in Southeast Asia. The event was moderated by Jason Tower, East Asian International Affairs Representative for AFSC in Beijing. 
For more information on this event, please see the flyer attached below.
Related Files
Related Areas of Work