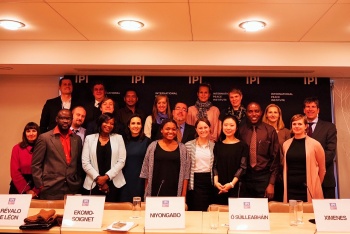 The New York Peacebuilding Group (NYPG) is a gathering of organisations engaged on various peace related issues at the UN and in country. Since September 2014 they have actively worked together to strengthen the role of civil society at the UN on peacebuilding as well as create space for dialogue and collaboration with the UN and member states.
In March 2015, the NYPG hosted local peacebuilders from Burundi, the Central African Republic, Guatemala, Liberia, Mali, South Africa, and Timor Leste to share their recommendations with the panel experts conducting the reviews of the UN's Peace Operations and Peacebuilding Architecture.
In June 2016, the NYPG organized an informal discussion between member states, UN experts and civil society on the topic of Inclusivity and the Implementation of Sustaining Peace, as a follow up to the joint General Assembly and Security Council resolutions on the UN's Peacebuilding Architecture. A summary of the discussion including recommendations can be found here.
Current members of the NYPG are:
For more information please contact the Quaker United Nations Office in New York.