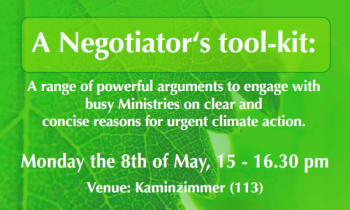 On the 8th May at 15:00 (CET), QUNO will co-host a side event titled, 'A Negotiator's tool kit: Engaging Ministries with effective arguments for urgent climate action'.  The event, co-hosted with DeMontfort University, Newcastle University and the Brahma Kumaris, and will take place on the opening day of the UNFCCC Climate Change Conference (SB46) in Bonn.
The side event aims to support negotiators' work to convince their respective and busy Ministries of the need for urgent action, by offering a wide range of clear and concise arguments for urgent climate action from the perspectives of climate science, peace and security, economics, food security, civil society engagement, human rights, ethics, and seasoned negotiator experience.  HICC Programme Representative, Lindsey Fielder Cook, will moderate the discussion. 
The event will be live-steamed for those who cannot attend the side event.  Please connect with this link on 8 May at 3pm, or anytime there after.
Please see the poster below for full details of the side event.
Related Files
Related Areas of Work